Meet Your Practitioner Cassondra Barbara
Cassondra Barbara loves being a family nurse practitioner and holistic wellness provider. Being able to pinpoint the root cause of an illness, and go beyond what lab work can provide using muscle testing, is gratifying.
A Journey of Discovery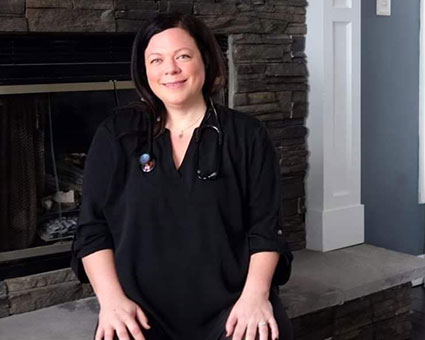 After receiving her Master's degree in nursing at D'Youville College, Cassondra took a three-level mind body spirit release course. A naturopathic doctor in Texas developed MBSR™ to help remove limiting thoughts, beliefs, or emotions stuck in our bodies that may cycle around to affect our organ systems. Sometimes our hormones can cause a problem, since every physical ailment starts as an emotion in our body.
Cassondra attributes muscle testing with her success in school. All the trials, tribulations, and stress from a hectic lifestyle created an imbalance. Getting her body back into balance allowed her to finish her education and convinced her to take muscle testing courses.
Muscle testing is an important addition to our practice. We can use supplements for anxiety and for depression, things that work within a day, without having to use medications like Xanax. It's a matter of giving patients a choice in their health decisions.
Certifications and Training
Cassondra has extensive training in holistic medicine, in addition to 16 years as a Nurse/Nurse Practitioner. Her certifications include:
Registered Nurse since 2006; critical care RN for 14 years, prior to becoming a NP specializing in ICU and emergency room. Works with adults and children of all ages, from birth to 100 years of age.
ANCC board certified nurse practitioner licensed in NY, MI, and soon in IL, and OH. (FNP-BC)
MBSR-P (mind body spirit release practitioner) level 3, which is the highest, through Heights of Health
HHP, or holistic health practitioner, certified by the American Association of Drugless Practitioners
Certified practitioner through CellCore Biosciences
Outside the Practice
Cassondra enjoys spending time with her family and friends, and helping them achieve great results with MBSR. She reversed her son's migraines, and recently helped her husband get off five medications.
Relief is Possible
Let's work together to find solutions for your issues. Contact us today.
---
Cassondra Barbara | (716) 525-1196